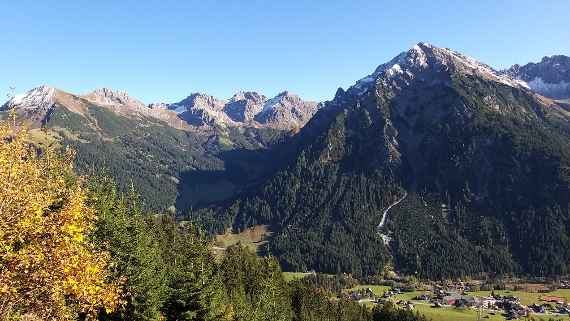 The mile­stones and their im­ple­men­ta­tion year (in paren­the­ses) in this flagship measure:
The protective forest is anchored as a spatial planning topic in ÖREK 2021 (2021)
One of the central tasks of the Austrian Conference on Spatial Planning is the elaboration and updating of the Austrian Spatial Development Concept (ÖREK). The Austrian Spatial Development Concept is a strategic steering instrument and a common guiding principle as well as a programme of action at the national level for spatially relevant planning and measures. This milestone is intended to establish and emphasise the importance of the protective forest in spatial planning. Among other things, the connections between object protective forest and spatial planning are discussed. The protective forest is also to be positioned as a regional topic in order to address larger planning units such as valleys. All partners and stakeholders will be involved in the process in order to promote and strengthen the ÖREK partnership. The protective forest objectives in general spatial planning are to be anchored in a spatial planning catalogue.
An European governance network for protective forests is active (2021)
The protective effect of forests is defined and treated differently in many countries in Europe and worldwide. At international and European level the forest ecosystem service "protection against natural hazards" has so far played a subordinate role. For this reason, strengthening the role of protective forests in European and international forest policy is a high priority. A governance network for protective forests should be promoted, international within the framework of the European Macro-Regional Strategy for the Alpine Region (EUSALP) and the European Commission on Forests of the World Food and Agriculture Organization (FAO/EFC).
An advisory network on protective forest management, adapted to regional structures, is established (2023)
Existing advisory structures such as the official local forest authorities and the forest wardens (Tyrol model) are used and further expanded. Among other things, training to become a protective forest advisor is to be offered and promoted at the Protective Forest Hub in Traunkirchen. The protective forest advisory service will be actively promoted in order to establish the use of the service.
An ÖREK partnership for the protective forest is established and concluded (2023)
The numerous ÖREK partners are to be made aware of the importance of the protection forest for rural development and risk management in Austria. Joint implementation steps are discussed and defined. A partnership on protective forests will be developed and concepts presented in joint workshops. In future protective forests are to be taken into account in ÖREK spatial planning.